CabMaster Machining Extra is a combination of CabMaster Basic and CabMaster Premium. It has the simple to use spreadsheet view of your cabinets from CabMaster Basic whilst also including the full comprehensive pre built library from CabMaster Premium.
With a wide range of cabinets with detailed options allowing you to modify and save your list of units parametrically with no limitations on cabinet duplication as well as easily changing cabinet construction to suit your business.
Rename and group your cabinets to best suit you and select from a range of different pricing options starting from a simple fixed cost, right through to a break down costing of material, hardware, labour and more.
Setup your customer database and produce a range of reports such as cutting lists, quotes & invoices, quantities list and more. Start with a huge range of included materials and easily add, remove or change these to suit your requirements.
Select from several different full machinable libraries giving you a wide variety of all types of cabinets, TV Units and also the ability to create your own from scratch using the Parts library. Also use the Accessories and Models libraries to make your job look even more realistic. When ready to machine, simply click just one button to export the required files for processing.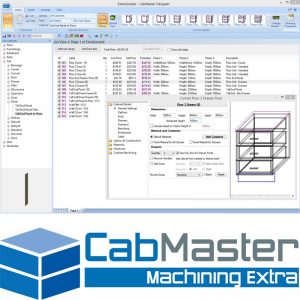 ---
For more information on this product.
Please fill in the form below: