Without a doubt, CabMaster Software simplifies complex tasks. CabMaster Machining Basic Software is a very simple to use software package that is undoubtedly the most cost efficient way to start machining with a CNC Machine.
CabMaster Machining Basic has a spreadsheet view, list style of cabinet machining, that includes a pre built library of cabinets ready for production, with all of your construction holes, hinges, runners etc.
Just select a cabinet from either the side menu or the images on the palette across the top, then you can parametrically modify it to suit the job you are working on, you can also view it in a wireframe preview before adding it to your machining list.
Save your construction and machining defaults for the complete job and set pricing up for quick, on the go quotes which automatically adjusts as the cabinet dimensions are changed.
Then when ready for machining, you only need to press one button to output all your created parts for every cabinet ready for Nesting.
Then using EzyNest "True Shape Nesting" software to generate all your CNC and part label files.
CabMaster Machining Basic Includes:
Simple List View of Cabinets
Pricing
Parametric Cabinets
True Shape Nesting
Basic Cabinet Library
Part Labelling for CNC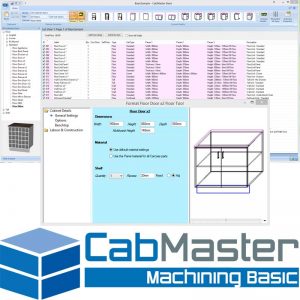 ---
For more information on this product.
Please fill in the form below: